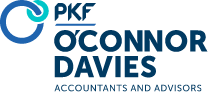 PKF O'Connor Davies is a new breed of accounting and advisory firm that holds itself to a higher standard – going beyond passive value calculation to active value creation.
With unmatched client focus we unlock real value hidden at key connection points of every engagement – from the industry and resource levels, to the organization and regulatory levels on the regional, national and international levels.
Through these connections, our team of more than 1,400 top-notch professionals continually drives efficiencies, uncovers opportunities and manages risk – delivering value where others can't.
That's why we're not the typical accounting firm. Our clients know greater service. They know greater connections. PKF O'Connor Davies – Know Greater Value®.